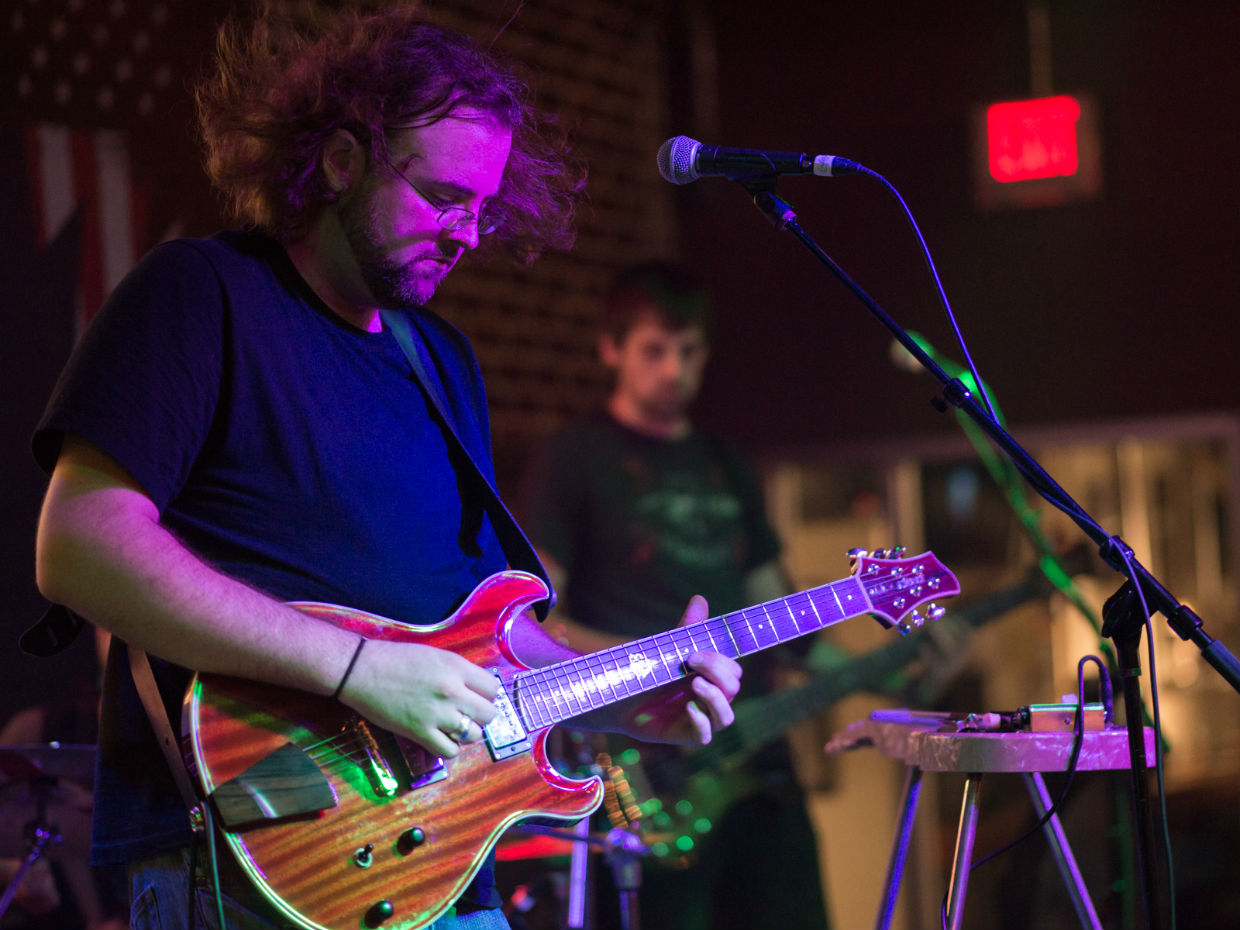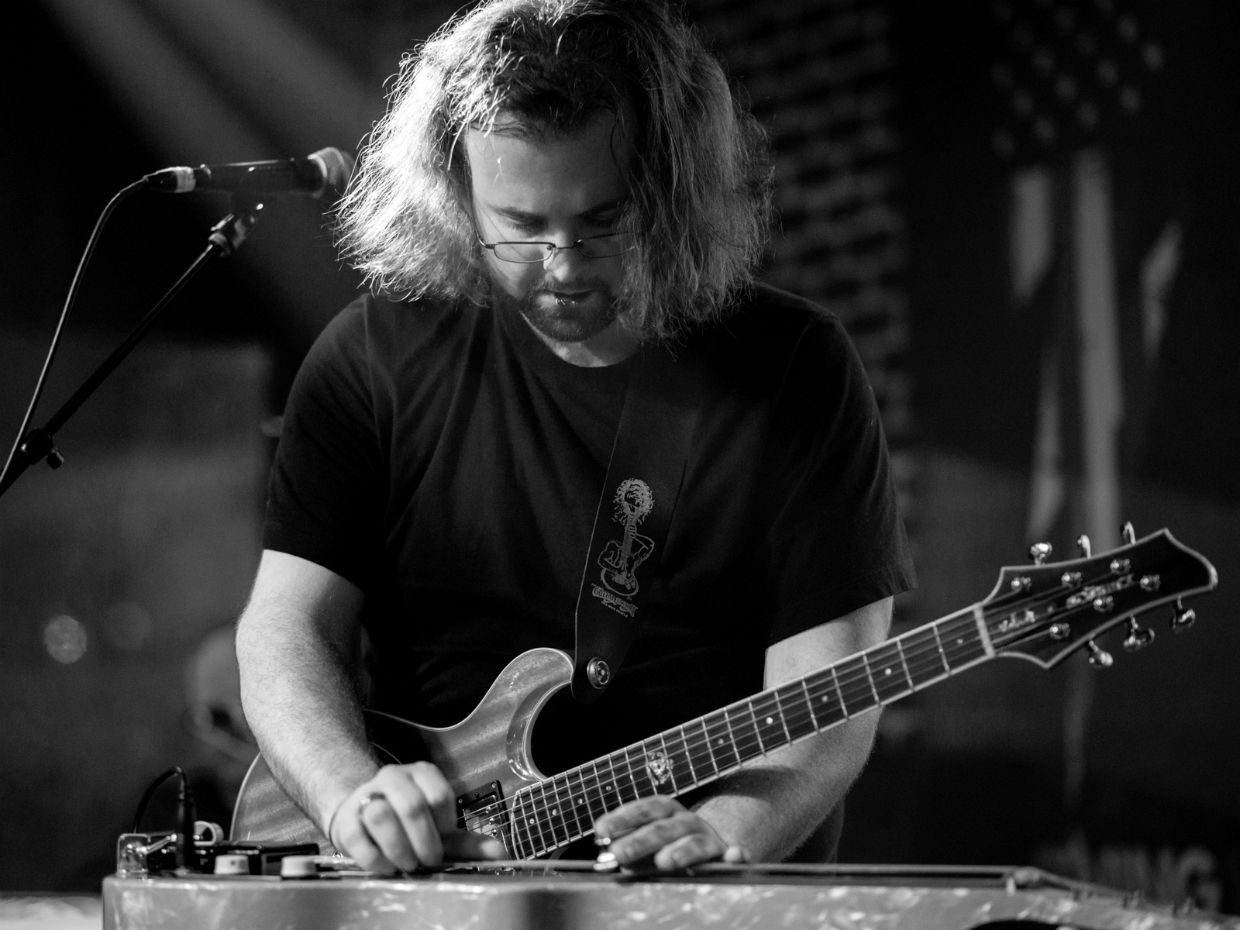 About Andrew Hooker
Music Lessons Will Travel (formally known as Music Lessons On Wheels) was founded by guitarist, singer-songwriter, producer, and recording engineer, Andrew Hooker. Andrew is the author of over 50 songs, all of which have been published through Mumbly Toe Music, BMI. He led the band, Vinyl Soup for over 10 years (2000-2013), and in 2013, their 3rd full-length album charted at #5 on college radio. He has been a working producer since 2004, and is the owner of The Cave Studios based in Franklin, TN (Leipers Fork). Andrew is currently the lead singer and guitarist for the Nashville, TN based rock band, The Uneven.
Andrew began studying and playing piano at age 7, guitar at age 10, clarinet at age 12, and drums at age 15. He began writing songs at age 12 and for years played guitar only by ear. Andrew recorded his first album at age 15, and his second album at age 16. His high school southern rock band, Grounded Pilots, recorded their second album at Fame Studios, Muscle Shoals, Alabama.
Andrew's training on piano was based in classical music from first grade until his junior year of high school. His junior year, he had the honor of studying with Professor Joel Harrison at Mississippi State University. Clarinet and drums were taught through his high school band, and Andrew was the drum line captain his junior and senior year of high school. He credits his school band director, Ron Williams, as one of his greatest musical mentors. In 1995, Andrew was a proud member of the Mississippi Lions All State Band (clarinet), and spent two weeks in Seoul, South Korea. Mississippi won the Lions Band parade and was the #1 Lions All-State Marching Band in the world that year. During Andrew's senior year of high school, he had the unique experience of studying music composition and arranging with world famous jazz and Hollywood film composer, Dee Barton (1937-2001), another major musical mentor. Barton was best known as the drummer, trombonist, and composer for jazz legend Stan Kenton. Barton is also recognized for his film scores, most notably, two Clint Eastwood films, "Play Misty For Me" and "High Plains Drifter". Upon graduation, Andrew was awarded the John Phillips Sousa Award in 1996.
After a year of attending Mississippi State University, Andrew's father encouraged him to follow his dreams. In the summer of 1997, his musical and college journey took him to Los Angeles, California, where he attended and graduated from Musicians Institute, G.I.T. (guitar institute of technology) in Hollywood. His guitar studies were based in Jazz, Blues, Rock, and Improvisational concepts. He had the honor of studying with jazz-fusion guitarist Scott Henderson (Chick Corea and Tribal Tech), Daniel Gilbert (G.I.T. live and studio L.A guitarist), and Joe Elliott (G.I.T., live and studio L.A. guitarist). He also had the great honor of rubbing shoulders with legendary musicians such as Robben Ford, Mike Stern, Albert Lee, Jimmy Herring, Paul Gilbert, Terry Bozzio, and Billy Cobham.  Along with attending G.I.T., Andrew also spent a great deal of his time at The L.A. Recording Workshop. This was a pro audio and recording school where his older brother, Phillip Hooker, worked as an audio instructor. Andrew interned in recording classes as a guitar player, and had the privilege of working with world famous drummer, Rick Parnell of Spinal Tap. Yes, the drummer from the famous movie who self-combusted!! It was at the L.A. Recording Workshop where he honed his skills and tricks of the trade in recording.
After graduating from G.I.T. in Hollywood, California, Andrew decided to relocate to Nashville, Tennessee. Wanting to be closer to his roots, he felt the south east was the best musical home. In 2002, Andrew formed the Progressive Rock band, VINYL SOUP. They released their debut album, "Chasing Yesterday" in December 2003. This album received national attention on college radio. In 2013 Vinyl Soup released its 3rd album, "The Beacon Within". "The Beacon Within" charted at #5 on college radio, and saw Hookers band alongside critically acclaimed artists such as: Tedeschi Trucks Band, Mickey Hart, Buddy Guy, Phish, Beth Hart and Joe Bonamassa, The Civil Wars, and John Mayer (See the chart!). Vinyl Soup has released three full-length albums, and has performed in 16 states throughout the United States. In addition to touring, Andrew also works as a producer with over 15 albums credited to his name. He is the owner of the Franklin, Tennessee (Leipers Fork based Recording Studio), The Cave Studios.  In 2002, Andrew formed Music Lessons Will Travel. He saw a strong need for music lessons to be taught in the home. With the growing demands of school and extracurricular activities, this proved to be an instant success.